Luxury Lavender Bliss Gift Set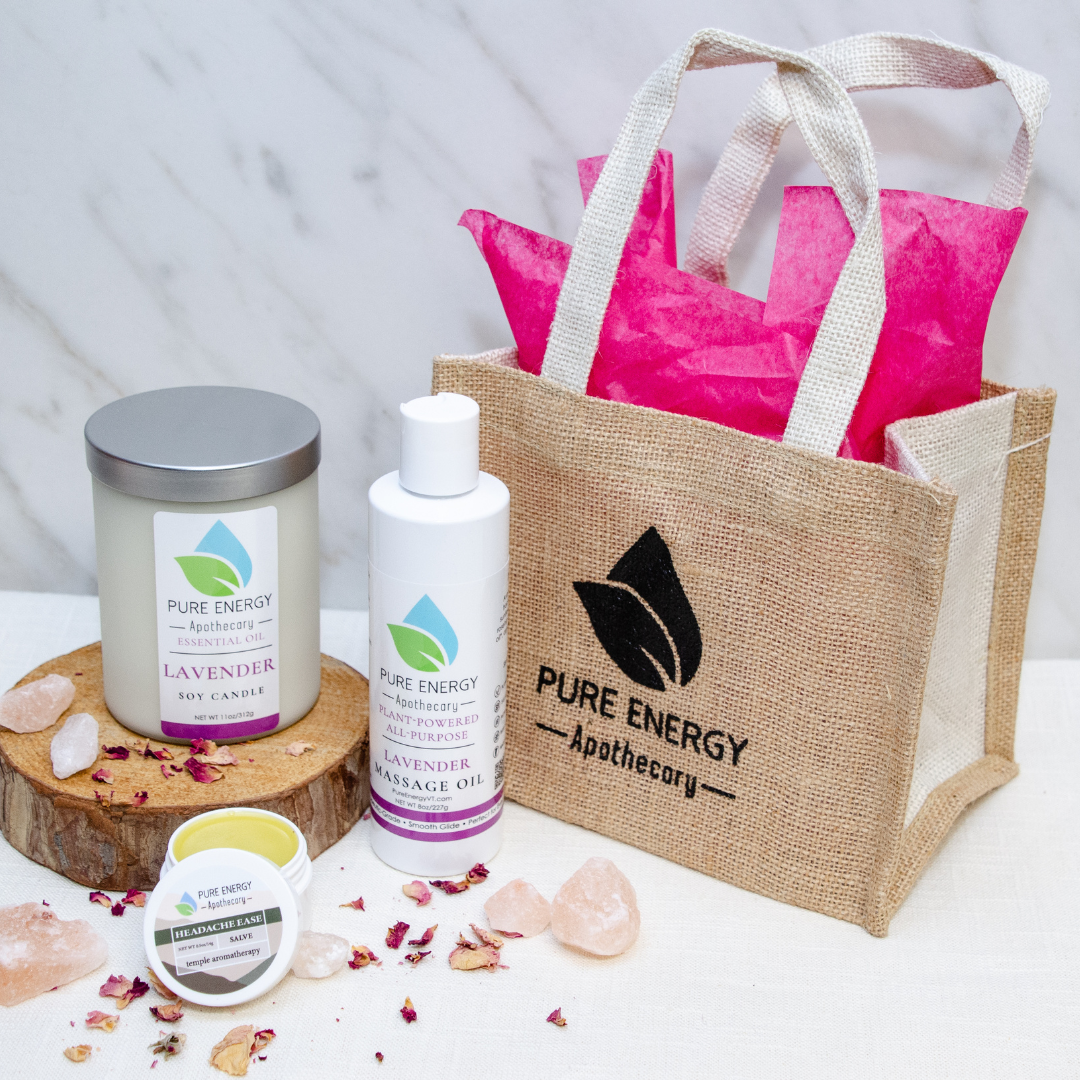 Our Limited Edition Luxury Lavender Bliss gift set will truly delight the lavender connoisseur in your life! We all know someone who deserves some serious pampering (it might even be that face in the mirror)! This set will relax, balance, and calm the soul. Our heavenly lavender will please even the most devoted lavender connoisseur. 
Luxury Lavender Gift Set Includes:

Massage Oil (Lavender) (8 oz)

All-Natural Soy Cande (Lavender) (11 oz)

Headache Ease Salve (.5 oz)

Keepsake Pure Energy branded jute bag

Includes FREE Ground Shipping (continental USA)
All of our products are made with clean, plant-based ingredients and zero chemicals. Versatile and powerful; perfect for hands, body, and even your face! 
Plant-Based, Non-Toxic, All-Natural

PETA Certified Vegan and Cruelty-Free

Small-batch handcrafted, made in Vermont

                 
Why you'll love it:

Always the perfect gift!  

Guilt-free pampering. 

Exciting variety is sure to please every time!

Your thoughtful care will shine through with our mindful ingredients and decadent quality.
Ingredients:
Lavender Massage Oil:
Avocado oil*, apricot kernel oil*, coconut oil*, sunflower oil*, rosehip oil*, jojoba oil*, rice bran oil*, argan oil*, with a proprietary blend of therapeutic-grade lavender essential oil*, and vitamin E*.    *certified organic
Headache Ease Salve: 
Olive oil* infused with lemon balm*, skullcap*, feverfew*, willow bark*, rosemary*, chamomille*, benzoin resin*, vitamin E*, Vermont beeswax*, and essential oils of lavender*, peppermint* and sweet marjoram*.    *certified organic
Soy Candle: 
100% natural and biodegradable soy wax with a proprietary blend of pure lavender essential oil* *certified organic
Free from: Sulfates, Phosphorus, Phthalate, Parabens, Petrochemicals, Mineral Oils, Glycerin, Propylene Glycol, Gluten, Synthetic Dyes, Aluminum, Sodium-Laurel-Sulfate-Free, GMO 

Pure Energy Apothecary is disrupting the skincare marketplace making sure that you won't compromise quality for price. Say goodbye to regimen and hello to effective plant-based ingredients you can trust. Enjoy! From our family to yours.
Read our Ingredients • Experience our Quality • Love our Value