Back Bar: Natural All Purpose Lotion 128 Oz (Pure & Natural, Unscented)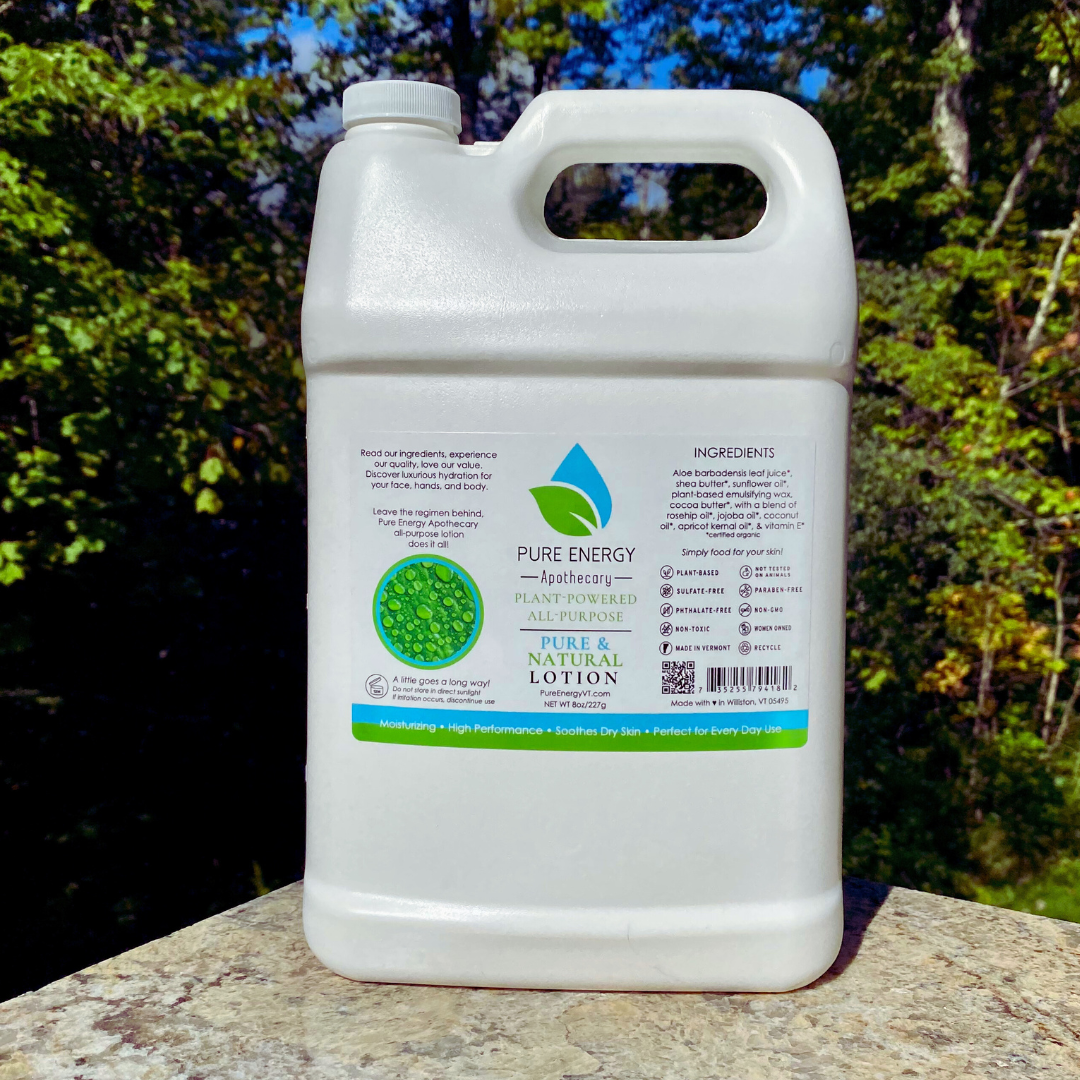 Pure Energy Apothecary offers a wide range of luxurious, natural back bar products for salons, resorts, and massage therapy providers. Our products are made with top-shelf ingredients and are formulated for versatility and effectiveness. 

Prices listed are MSRP: Contact us to apply for Professional Pricing.

Each 128oz Back Bar Professional Size product comes with a reusable pump. 

Pure & Natural is simply that. Unscented, fragrance-free, and created with natural ingredients.
This all-purpose lotion delivers luxurious moisture for your skin and is made with clean, plant-based ingredients and zero chemicals. Versatile and powerful; perfect for hands, body, and even your face!
Plant-Based, Non-Toxic, All-Natural
PETA Certified Vegan and Cruelty-Free
Small-batch handcrafted, made in Vermont
Ingredients
Aloe barbadensis leaf juice*, shea butter*, sunflower oil*, plant-based emulsifying wax, cocoa butter*, rosehip oil*, jojoba oil*, coconut oil*, apricot kernel oil*, and vitamin E*
*certified organic
Free From
Sulfates, Phosphorus, Phthalate, Parabens, Petrochemicals, Mineral Oils, Glycerin, Propylene Glycol, Gluten, Synthetic Dyes, Aluminum, Sodium-Laurel-Sulfate-Free, GMO
Why You'll Love It
Rich Creamy Texture
Non-Greasy
Absorbs Quickly
Soothes Dry Skin
High-Performance, Versatile - removes the regimen
Priced for Everyday Use
Perfect For

Retail Refill Product

Body Massage
Hand Massage
Facial Care

Client Add-On Services

Medical Services
Client Experience
About Our Company
Pure Energy Apothecary is a small, woman-owned business based in Vermont. We're disrupting the clean beauty industry by making effective, luxurious, plant-based skincare products you can trust. Unlike other products you may have tried, these have a wonderful feel and genuinely work! We work hard to keep our products as affordable as possible, you shouldn't have to compromise quality for price. Enjoy! From our family to yours.
Read our Ingredients • Experience our Quality • Love our Value