Aisle End Cap Display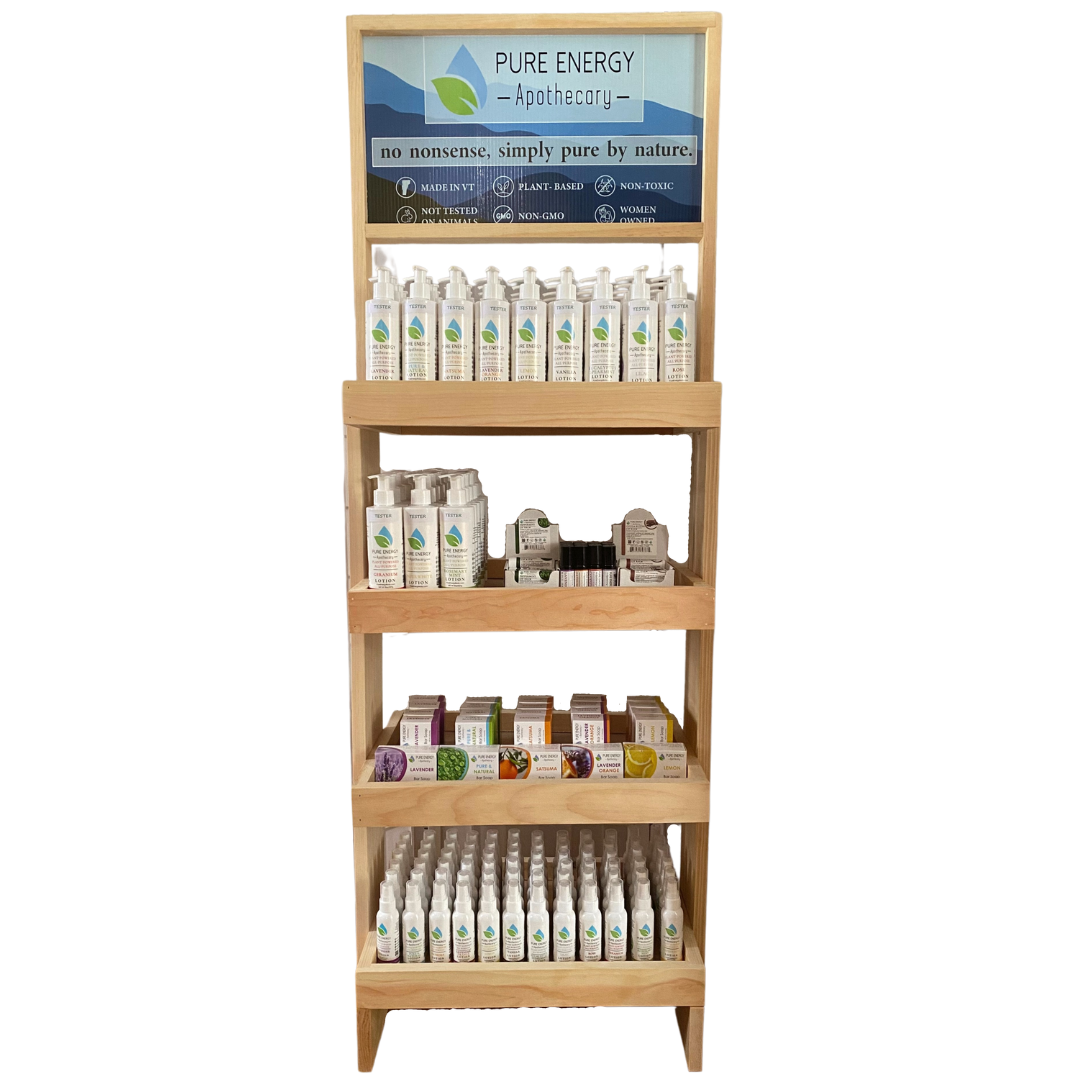 Introducing Pure Energy Apothecary's In-Store Apothecary Display: Elevate Your Retail Sales!
Pure Energy Apothecary is dedicated to delivering exceptional products that will truly delight your customers. With our countertop displays, you can now offer them a luxurious and nourishing skincare experience right at your store.

Why choose Pure Energy Apothecary: No nonsense, simply pure by nature!
Phenomenal Plant-Based Formulations:

 

Our premium quality, plant-based products are carefully crafted to provide effective and versatile skincare solutions. From hands to body, and even the face, our all-purpose products deliver outstanding results for your customers.

Uncompromising Quality at Consumer-Friendly Pricing:

 

We believe that everyone deserves the best quality products without breaking the bank. Pure Energy Apothecary ensures that you can provide your customers with true luxury at affordable prices.

Trust in Clean and Natural Ingredients:

 

Our handcrafted products are made with clean, plant-based ingredients and are completely free from harmful chemicals. Customers can enjoy the benefits of our skincare range without any worries.

Build Brand Loyalty and Attract Customers:

 

By offering Pure Energy Apothecary products, you're providing your customers with an opportunity to experience results that create brand fans for life. With our outstanding formulations, they'll keep coming back for more. 
But that's not all! Pure Energy Apothecary products are:
Plant-Based, Non-Toxic, and All-Natural:

 

Your customers can feel confident knowing that they are using products that are safe and free from harmful chemicals.
PETA Certified Vegan and Cruelty-Free:

 

Appeal to the growing number of conscious consumers who prioritize ethical choices.
Small-Batch Handcrafted, Made in Vermont:

 

Each product is meticulously crafted with care and attention to detail, ensuring the highest level of quality.
And here's the best part:
By placing our countertop displays in your store, you can increase your sales by an incredible 500% compared to non-display shelf placement. Customers will be drawn to the visually appealing and enticing arrangement, making it easier for you to sell our products.

Pure Energy Apothecary products are also free from sulfates, phosphorus, phthalates, parabens, petrochemicals, mineral oils, added glycerin, propylene glycol, gluten, synthetic dyes, aluminum, sodium-laurel-sulfate, and GMOs. Your customers can enjoy the purest ingredients, resulting in healthier, happier skin.

Join us in disrupting the skincare marketplace by providing your customers with the best quality products that don't compromise on price. Say goodbye to complicated skincare regimens and hello to effective, plant-based ingredients they can trust.

Choose Pure Energy Apothecary. Experience the difference. From our family to yours.

If you have any questions or need further information, please don't hesitate to ask. We're here to support your success! Please your clients with Pure Energy Apothecary with countertop displays!
Read our Ingredients
Experience our Quality
Love our Value
Display includes: Branded header, Vermont handcrafted wooden display, 214 products (plus 12 tester lotions - part of a constant refresh program).

Display Measures 13"D x 21"W x 57"T  ***BEST SELLER***

Includes
60 - 8 oz all-purpose lotion pumps (5 - Lavender, 5 - Lavender Orange, 5 - Satsuma, 5 - Pure & Natural (Unscented), 5 - Vanilla, 5 - Eucalyptus & Spearmint, 5 - Lemon, 5 - Lilac & Lilies, 5 - Geranium, 5 - Paperwhite, 5 - Rosemary Mint, 5 - Rose) 
16 - Roll-Ons (4 - Lavender, 4 - Lavender Orange, 4 - Lilac, 4 - Satsuma) 
30 Cold-pressed soap bars (5 - Lavender, 5 - Lavender Orange , 5 - Pure & Natural, 5 - Lemon, 5 - Rose)
72 - 2 oz all-purpose

 

pumps (6 - Lavender, 6 - Lavender Orange, 6 - Satsuma, 6 - Pure & Natural (Unscented), 6 - Vanilla, 6 - Eucalyptus & Spearmint, 6 - Lemon, 6 - Lilac, 6 - Geranium, 6 - Paperwhite, 6 - Rosemary Mint, 6 - Rose)
36 - Lip Balms (18 - Cocoa Butter, 18 - Peppermint)